Water Mitigation Gets Office Buildings in Morgan Hill Dry Fast
7/19/2022 (Permalink)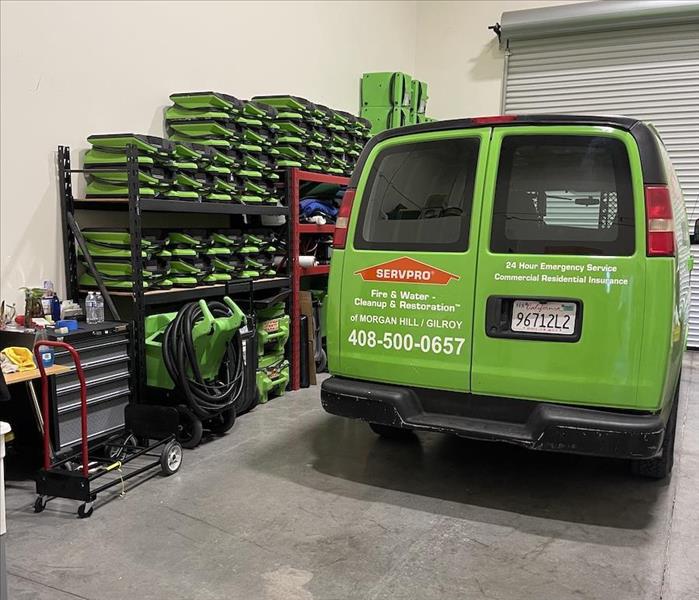 Commercial water damage restoration services in Morgan Hill needs the attention of SERVPRO. We are ready at a moment's notice.
Keep Office Staff Productive with Water Mitigation
People often leave indoor humidity to the HVAC system to keep it steady. However, a slow leak can remain undiscovered if the amount of water leaking from a fountain or other source evaporates at a rapid enough pace. SERVPRO's water mitigation service includes detecting the cause of such issues and fixing the problem for our Morgan Hill customers.
Small, indoor leaks in your offices in Morgan Hill might need water mitigation. Even though they seem unimportant, the water's cost adds up over time and can become significant. Not only that, but seepage can lead to dry rotting and other kinds of deterioration. One thing to remember is that water must go somewhere, even if it seemingly disappears.
Excess humidity can cause problems for people working in your offices:
Longer times to cool off after entering the building,
The air conditioning system must work much harder,
Faster wearing out of electronics, and
An uncomfortable damp or clammy feel to certain objects.
Water mitigation can resolve these problems and keep workspaces easier to keep clean. In addition to repairing the place that has been letting water enter where it should not, SERVPRO also helps businesses with cleaning, repairing, or reconstructing damaged areas. We can perform electrical work and plumbing, also. We scale our activities to the job's specifications.
Correcting the high humidity requires more than fixing the source. We also need to strip the air of the excess moisture and give your office a new, fresh start. Desiccant machines can do this much more efficiently than your cooling system. You do not need to be concerned about the noise level, as we can work during off-hours just as easily as during your busier times.
Give us a call if your office building seems overly humid. We can use our high-tech infrared cameras to locate the cause and fix the situation with water mitigation techniques. Call us, SERVPRO of Morgan Hill / Gilroy, at (408) 500-0657.