Morgan Hill Tied to Silicon Valley and High Tech Industries
12/18/2020 (Permalink)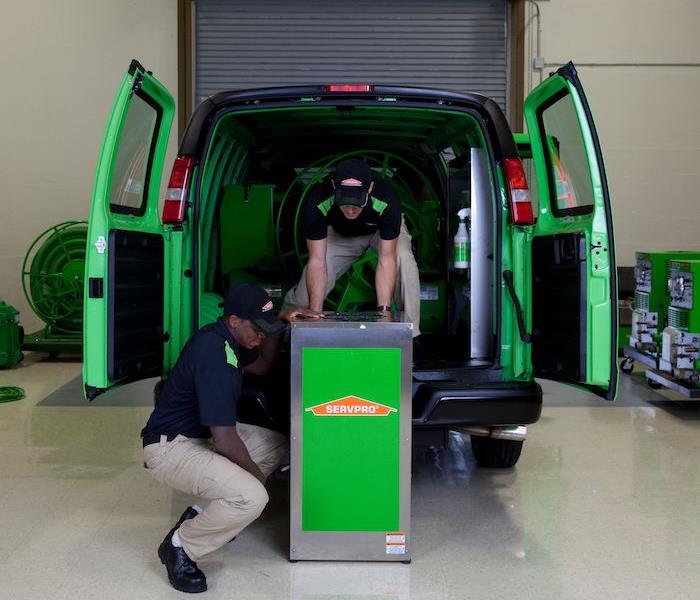 Thorough water cleanup requires proper equipment in the hands of professionals. Contact our team of experts today for water cleanup services.
Experience Restaurants, Wineries, and Nature in Morgan Hill
Morgan Hill, named after one of its founders and a large landowner in the region, is steeped in history. The Tamyen Nation of the Ohlone people lived in the area for over 6000 years before the first Spanish expedition arrived in 1772. They camped on what later would become Morgan Hill. The Murphy – Dunne families owned vast tracts of land in the area, including Morgan Hill. In 1882, Hiram Morgan and his wife Diana Murphy inherited the 22,000 acres. He later sold off the majority of the land and retained what became Morgan Hill Ranch and later renamed Morgan hill. Their daughter eventually moved to the UK, ending the family's presence in the area. The town was incorporated in 1906.
Today, over 40,000 people live in the area, and the town's economy is tied closely with high tech industries in nearby Silicon Valley and as an upscale leisure community. These two factors drive Morgan Hill's real estate values, recreation activities, and hospitality industries. Wine tourism has become very popular. Cycling, hiking, camping, farmers' markets, visiting historical sites, and exploring the many restaurants and brewpubs are also popular.
Morgan Hill Historical Society
The society and the town were named after local rancher Hiram Morgan Hill. His original home, built-in 1884, is a gorgeous Queen Anne Eastlake – Stick style home. Visitors can learn about the house's history and the family that made such a massive contribution to the area. Tours of the home are available. Visitors can experience life from the 1880s.
A 1911 Craftsman style home was moved to the property in 2005 to become the Morgan Hill Museum. There are many archives, artifacts from life in the 1800s, maps of the area, photos depicting life at that time, many clippings, and other memorabilia belonging to the residents from the area who lived and developed the lands around Morgan Hill. There are also rose gardens to stroll through while viewing some of the historical highlights.
Interesting Activities In Morgan Hill
There are exciting things to do in Morgan Hill. Visit the Morgan Hill Farmers Market, tour a winery, hike in a state park, visit an orchard, take a tour of the area, enjoy local restaurants and shopping.
Morgan Hill Farmers Market
Every Saturday, farmers from Morgan hill and adjacent local communities sell their products at the farmer's market located at 3rd and Depot St. The market runs year-round. There is also a Kids Craft Event with many educational projects for all ages.
Tour One of the Many Wineries in the Area
Take an organized wine tour or visit each one on your own to experience some of the region's best California wines. Tour guides work with local wineries, historians, and naturalists to create memorable experiences for their guests. Many people also visit local wineries on their own, preferring to develop their personal experiences. Local wineries include:
Guglielmo Winery
Sycamore Creek Vineyards
Lightpost Winery
Castillo's Hillside Shire Winery
Visit Local Parks
Uvas Canyon County Park - offers hiking, camping, and picnicking experiences. Before visiting, reservations for parking are required.
Henry W. Coe State Park – hiking and camping are offered, including trailers up to 20 feet.
Coyote Valley Open Space Preserve – offers rural and wilderness experiences, including multi-use trails for hikers, mountain bikes, and horseback riding. It covers 348 acres and three levels of hiking challenges.
Chesbro Reservoir County Park, located west of Morgan Hill, is open to shoreline fishing, dog walking on a leash, and picnicking.
Local Shopping, Restaurants, and Brew Pubs
Morgan Hill offers many high-quality restaurants, shopping, and brewpubs to relax and enjoy good food and drink. The Gilroy Premium outlets are close by, near Gilroy, offering many high-end shops with discount prices.
Diners can choose from Mexican, Italian, Chinese, Asian, and local American cuisine. There are many restaurants in the area. Several restaurants offering local cuisine and outdoor seating include Trail Dust BBQ, Ladera Grill, Odeum, and Rosy's at the Beach. Maurizio's, Noah's Bar and Bistro, Mama Mia's, Sicilia in Bocca, Jonty's Vietnamese Eatery, and Mr. Falafel also offer outdoor seating to meet current health guidelines.
Another must-visit is Andy's Orchard, located at 1615 Half Road in Morgan Hill. The family has owned the orchard since 1958 and offers sweet cherries, apricots, peaches, nectarines, and plums, along with many products derived from the fruit grown in their orchards.
Service Clubs in Morgan Hill
The community is very active, supporting many service clubs that help and support the community. These clubs include:
Chamber of Commerce
Kiwanis
Rotary Club
Morgan Hill Historical Society
Wildlife Education & Rehabilitation Center
Freedom Fest
YMCA
Wineries of Santa Clara Valley
Avoid Accidents from Slips and Falls During Water Cleanup
Most of us are so worried about the damage that water leaks are causing to our furniture, floors, and walls that we forget about other potential dangers. Water can spread across hard surface floors such as tile and hardwood very quickly. In our haste to stop the water leak and protect our homes from further damage, many people rush into an area only to have their feet slip out from under them, causing broken bones or even a concussion. There could be electrical hazards as well when leaking water short circuits electrical cords.
Before entering your home or a room to shut off the water tap or clean up water on floors etc., SERVPRO recommends homeowners take the following steps:
Confirm that it is safe to enter the area
Check for electrical hazards
Move carefully to avoid falling on slippery surfaces
Materials, once soaked, can be very heavy to lift, potentially causing back strain
Let the experts manage the water cleanup needs in your home or business.
SERVPRO of Morgan Hill / Gilroy provides water cleanup services to Morgan Hill residential and commercial business customers and the surrounding area. Call (408) 500-0657. We respond 24/7 to help with all your water cleanup needs.